We are still operating, and items will be shipped; however, due to COVID-19, we are experiencing supply chain issues and longer processing times.
Shaved Ice & Snow Cone Syrups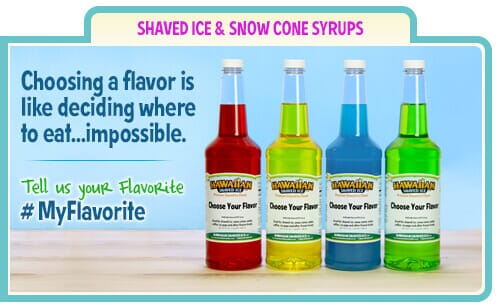 HawaiianShavedIce.com offers a plethora of delicious and fun snow cone syrup flavors for your shaved ice. Snow cones are a delicious treat that should be enjoyed year round, in your home and at parties. We have various flavors of shaved ice syrups for all tastes – from fruity to candy-flavored to chocolate choices.
We also carry snow cone flavors in different sizes so you can order a little or a lot. If you want to try out a flavor, our quarts are an ideal choice. Or if you know the flavor you love or want to try out a bunch of diverse flavors, save money by ordering our 10 gallon selection. Stock up on snow cone syrups for upcoming parties and celebrations. If you're throwing a party and not sure of the flavor selection you should order, we have a Top 5 snow cone and syrup package that includes our most popular flavors like blue raspberry, cherry, grape, lemon-lime and strawberry.